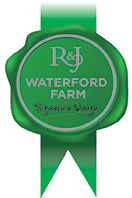 Yorkshire's Finest Small Topside of Beef is a delicious, roasting joint taken from the hindquarter of the animal.
Topsides provide a super affordable yet delicious Sunday roast option. The joint comes from the Top of beef and is seamed out and then rolled expertly by our butchers. They then add some additional beef fat to help provide a wonderfully moist, flavoursome roast.
Yorkshire beef is some of the finest in the whole of the UK. Selected from herds across this large historic county. Here at Waterford Farm, we farm our own special Grass-fed, slow grown cattle. We farm and age native and continental breeds. As a result, we can meet the various demands of our chefs.
Pack weight to range between 1.2 -1.5kg
Our recommended cooking instructions:
Remove and pat down the Small Topside of Beef from the fridge 60 minutes pre-cooking to get to room temperature.
Pre Heat your oven to 180c
Season with some oil, salt and plenty of black pepper.
Seal the beef in a hot pan then place into the pre heated oven.
Roast in the oven for 20mins per 500g for Medium Rare.
Rest for 20 minutes
Carve into thin slices and then enjoy
Try next… Beef Short Ribs
Join our community on Instagram! Give us a follow @randjyorkshiresfinest.