SIGNATURE RANGE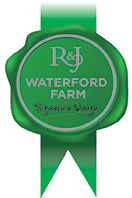 The Waterford Farm Signature Range runs in conjunction with our quality Premium Range. It is the connoisseur's choice!
Every product in the range bares the Waterford Farm seal of approval. This includes the beef reared on our own pastures as well as high end meats supplied by the carefully selected members of our cooperative. What better name for our Signature Range than that of our own home!
We are almost unique in the way we take delivery of our Signature Range meats – in carcass form or bone-in primals. This extends throughout our full species offering. All meats are hung on the bone or matured for a finely-tuned length of time. As a result this guarantees the rich flavour and tenderness that our customers have come to expect.
Another distinctive feature of our Signature Range is that we insist on the use of abattoirs nearest to the farms where the livestock resides. This is vital to reduce stress to the animals and produce better quality meat.
Are you are a farmer or supplier proud of the quality of your produce? If so you may be interested in joining the R&J cooperative and supplying meats for our Signature Range. To find out more, please contact our office on 01765 658611 or office@randjyorkshiresfinest.co.uk and quote 'Potential Supplier'.
All potential members of the R&J cooperative must meet strict quality and welfare criteria.